DAY 2 PLAYLIST :D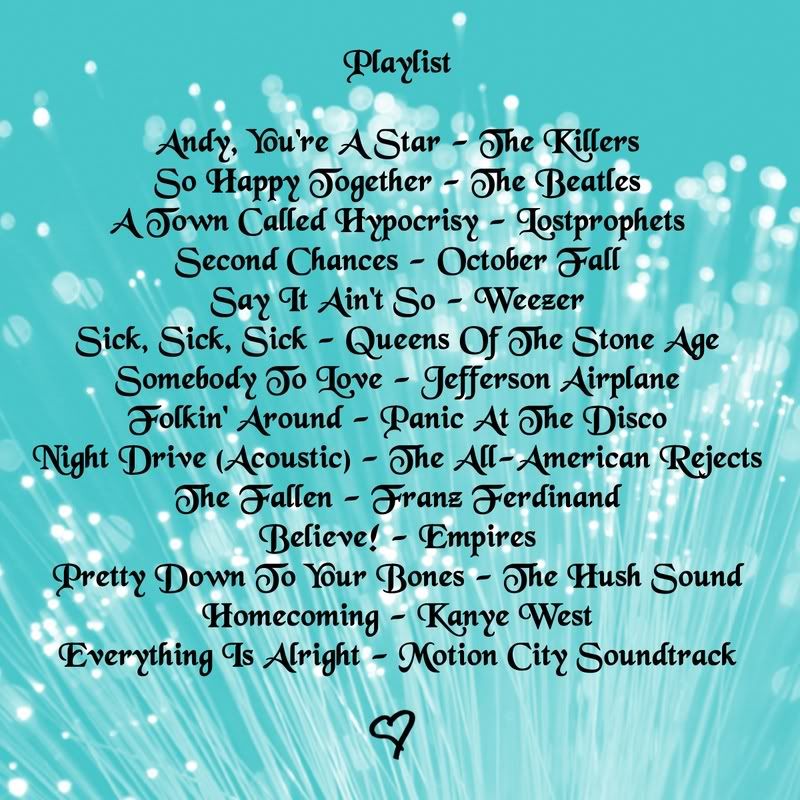 Dowload whole ZIP file here.

Let me know if any of the links expire and I'll update them :)
Individual tracks!
Andy, You're A Star
- The Killers
So Happy Together
- The Beatles
A Town Called Hypocrisy
- Lostprophets
Second Chances
- October Fall
Say It Ain't So
- Weezer
Sick, Sick, Sick
- Queens Of The Stone Age
Somebody To Love
- Jefferson Airplane
Folkin' Around
- Panic At The Disco
Night Drive (Acoustic)
- The All-American Rejects
The Fallen
- Franz Ferdinand
Believe!
- Empires
Pretty Down To Your Bones
- The Hush Sound
Homecoming
- Kanye West
Everything Is Alright
- Motion City Soundtrack
This does have some kind of semblance of order in relation to the story, its also just songs I relate to it/listened to whilst I read :)
(I'm going to upload these on Mediafire as soon as it will let me so the links won't expire)